Description
A malignant growth or tumor on the skin that tends to grow and spread. There are three basic types of skin cancer, described as follows: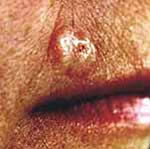 Nodular Basal Cell Carcinoma
Basal cell carcinoma, occurring mostly on the face, neck and hands, is usually a slow-grower and may be scaly, flat or raised. It often crusts and bleeds, but does not heal or go away completely.
Squamous cell carcinoma, typically appearing on the face, hands and ears, appears as a reddish/pink scaly bump. It may begin as a pink or red crusted area.

Malignant melanoma is the most serious of skin cancers. It usually begins as a light brown or flat, black spot with irregular borders that later can become red, blue or white. It may start in an existing mole or as a new flat freckle with irregular borders.
Cause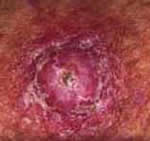 Squamous Cell Carcinoma
(Source of information: AAD)
According to the AAD, over exposure to ultraviolet light (from the sun and indoor tanning lights) is the greatest risk factor for skin cancer. They state that ultraviolet radiation causes almost all cases of basal and squamous cell skin cancer, and sun exposure is a major cause of skin cancer.
Excessive sun exposure during the early years (birth through age 18) increases the risk of melanoma by threefold. Caucasians are 20 times more likely than African-Americans to develop malignant melanoma. Fair-skinned people have twice the risk of developing melanoma as olive-skinned people. Redheads and blondes have a two to four time increased risk of developing melanoma.
There is an increased risk of nine times for individuals that have already had one melanoma. People with many or large moles on their bodies have a substantially higher risk of melanoma. Those with a history of melanoma in their family have a higher risk of developing melanoma themselves.
Who is affected?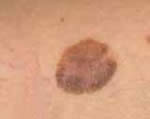 Early Superficial
Spreading Melanoma
One out of every five Americans will develop some form of skin cancer in their lifetime. Skin cancer is the most common type of cancer. Half of all cancers diagnosed is skin cancer. It is estimated that 1 million new cases of skin cancer will be diagnosed this year in the United States. Of these, 80% will be basal cell carcinoma, 16% will be squamous cell carcinoma and 4% will be melanoma.
In 1998 it is estimated, 1 in 82 Americans have a lifetime risk of developing melanoma. This increases to 1 in 75 by the year 2000. In 1998 new cases of melanoma increased by 3% over 1997.
Basal cell and squamous cell carcinoma have a better than 95% cure rate if detected and treated early.